TRUCK NORRIS
Comforts & Classics with a Twist
Located in St. Louis, MO, Truck Norris is a food truck providing twists of your favorite classic and comfort dishes all across the area.
Photos by TODD NORRIS
What started out as a dream years ago, became a reality for Todd Norris in the summer of 2017. With the purchase of his food truck, Todd set out to make Truck Norris a success. It has quickly became a favorite in the Saint Louis area. Serving up those classic & comfort foods with an inventive twist, this chef is setting himself a world apart from your regular old food truck, and allowing visitors to taste their favorites in a new, and delicious way. Todd is constantly striving to add his next twist to the menu, always working to find fun ways to entice your taste buds.
Just what's cookin' on Truck Norris? A mashup of all your favorite things. Ever wonder what a BLT might taste like wrapped up in sushi? Well, they did, and thus the BLT Sushi was added to the menu. How about the comfort of a BBQ nachos, but with a hearty twist? Give the Tot-chos a try and dig into BBQ pulled pork and more loaded on top of tator tots. Sweet tooth craving? How about a deep fried s'more? The menu's chock full of eats that pack a punch to your tastebuds. So what are you waiting for? Find Truck Norris cruising the streets of St. Louis and beyond to satiate your hunger in a whole new way. Trust us. It's well worth hitting the pavement for.
Truck Norris has also ventured off to Sweet Treats. His famous truck pies, available in many sizes, deliver classic dessert flavors or crazy taste concoctions to a fun hand-held treat. The pillowy cake-like sandwiches can be ordered for special events, or picked up at the truck for a quick treat. He has also brought fun tastes to classic desserts, such as pies, cupcakes and more. New creations are always being developed so be on the lookout for what treats are coming next.
Phone
(314) 795 - 2510
Location
Check out our social media for our weekly schedule
Hours
Lunches - 11a-1p
Evening - Event dependent

Backyard S'mores
The item that started it all!!!! A giant marshmallow coated in Hershey chocolate, & graham cracker, battered, & deep fried with a drizzle of chocolate syrup and whipped cream.
Gooey Butter Cake Bites
Bite sized squares of homemade gooey butter cake, deep fried, & covered in powder sugar.
Apple Pie Toasted Rav's
Homemade raviolis with ooey gooey apple pie filling tossed in cinnamon sugar then drizzled with caramel and whipped cream.
Cinnamon Crinkle Fries
Fries made from cinnamon rolls, tossed in cinnamon sugar, & served with cream cheese frosting for dipping.
Truck Pies
Cake sandwiches filled with delicious icing. Available on the truck, at the Baker's Hub, or by order.
Available Flavors:
Red Velvet
Banana
Carrot Cake
Lemon Creme
Dreamsicle
Pumpkin Spice
Strawberry Cheesecake
Mint Chocolate
Turtle
Hot Chocolate
White Chocolate Peppermint
Cherry Cheesecake
White Chocolate Raspberry
Butterfinger
Gooey Butter Cake
Chocolate Cookie Butter
Sugar Cookie
Chocolate Covered Cherry
Cap'n Crunch
& More
Having a big party? Want us to feed your wedding guests?
Planning a small party? Want to have some friends over, but have Truck Norris do the work?
Truck Norris is ready to serve you no matter the occasion. We have a lot of catering options to make your party special. From pulling the truck up to your house, to delivering a Tot-cho or Mac 'n Cheese bar, we have just what your event needs. We can even bring the truck to your location, cook the food on site, bag it, and deliver it to the front desk.
Contact us using the form below and we will get back to you with the party options right for you. Make sure to provide us with as much information as you can, (# of guests, date, vision for the party) so we can narrow down the options to what will suit your needs!
You've got questions so we have your answers! We've assembled some of the most frequently asked questions. Explore the section below and if you have more questions, please do not hesitate to contact us.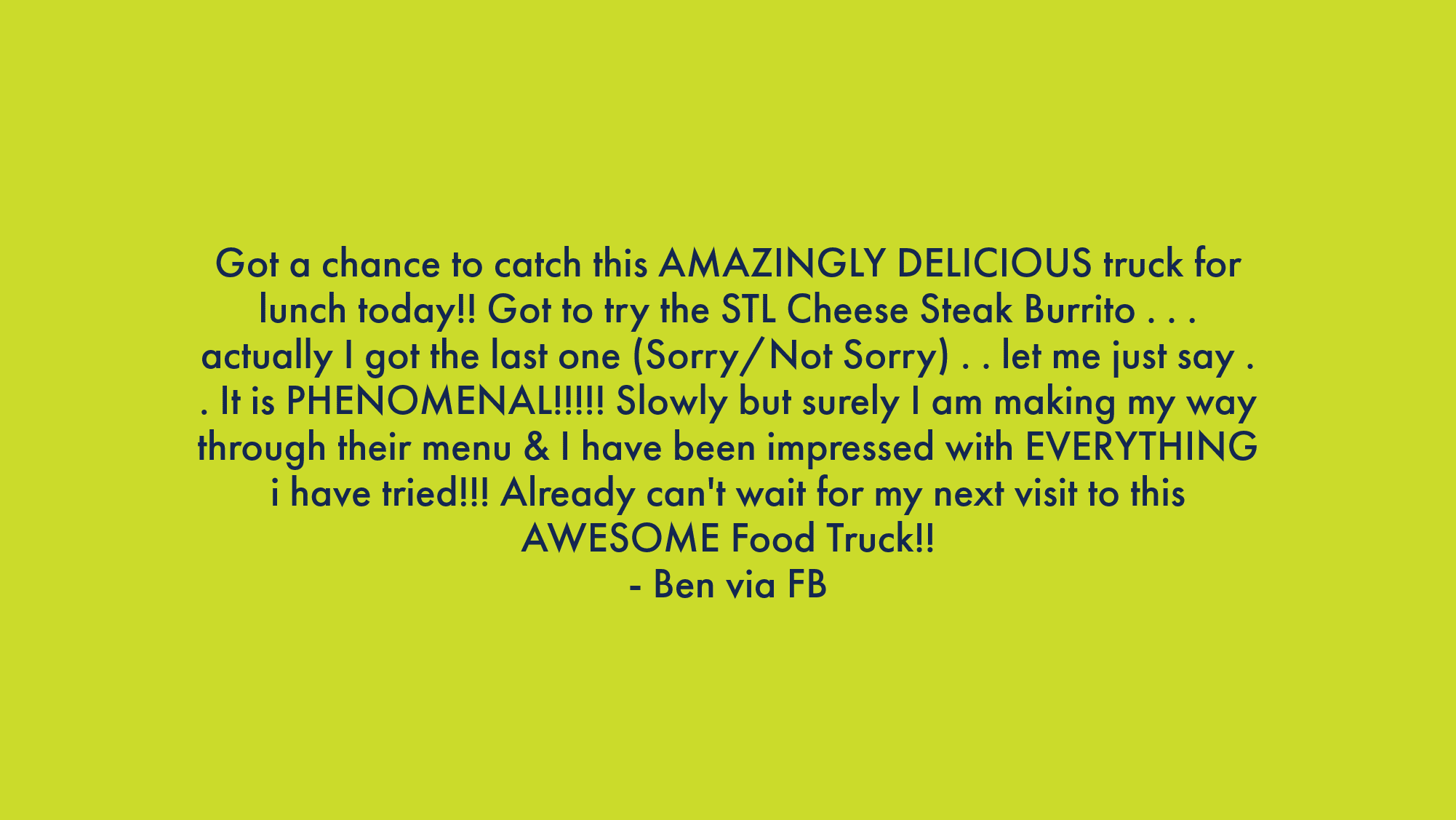 Tell us where you want us to go!
Contact us with event or lunch service requests: